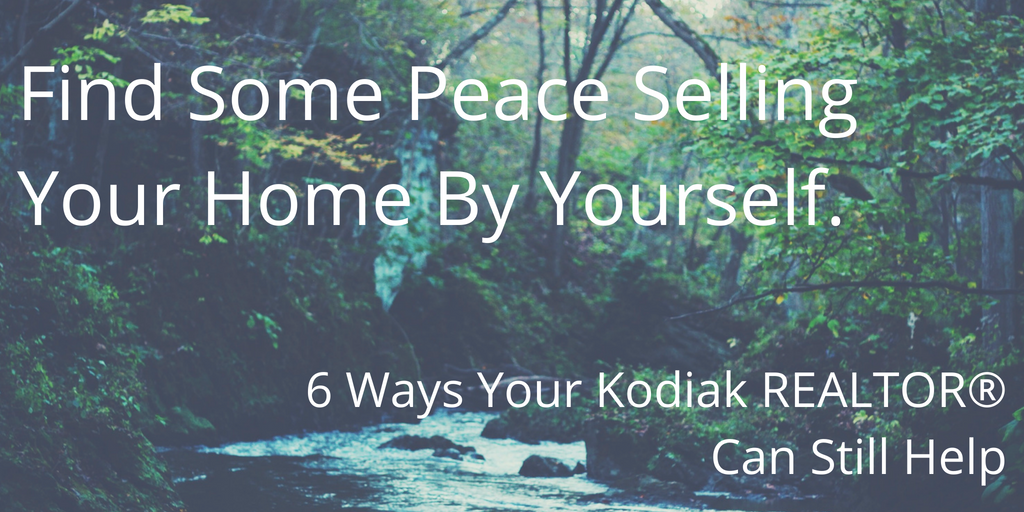 Kodiak is unique! all of us who live here know and appreciate our special Island Life. Our way of life rarely reflects the lifestyle of the lower 48, so why would we sell our homes the same way? RE/MAX of Kodiak is here to support those of you choosing to sell your homes yourselves. That's right, we know that some of you choose to sell homes on your own, and we want to lend a hand in any way we can! I told you this would be a new spin on an old story...
From my perspective, 2018 is the third year in a row that we are seeing mostly a "seller's market" in Kodiak. Now, keep in mind this "seller's market" does not include all price points or property categories but for the average Kodiak home, it's been a strong year for sellers. That translates, in my opinion, to lower than usual housing inventory and possibly higher than usual buyer numbers. It is not uncommon during these "seller's markets" that we see and increase in For Sale By Owner (FSBO) homes.
With this post, we wanted to make a special effort to reach out to those sellers not working with a REALTOR®. We often help sellers on a case specific basis without charging a full commission. We are here for you whenever you need us! I totally get that you want to sell or attempt to sell your home without a real estate licensee and the associated commission fee. My husband and I have successfully done the exact same thing ourselves in two different states before we moved to Alaska and before I was a REALTOR®. It's totally possible and many times it works out with no problems at all. However, there are times when you may need a real estate professional's expertise when it comes to:
1. Marketing
It's all about getting your home in front of the right people. Different homes require different strategies. Paired with our RE/MAX of Kodiak marketing specialist and our own expertise, we can find the very best fit for you and your unique home.
2. Showings
When selling your home yourself, we can help you understand the qualifying process (hint: it's more than knowing they can afford your home) so you have more comfort opening your home. In the past, RE/MAX of Kodiak agents have often brought their own, thoroughly vetted, buyers to FSBO homes; closing many sales this way.
3. Contracts
Maybe you've already found someone to purchase your home, but you just don't know the steps to take to be sure everything will be legal, and you will be protected. This is one of the most common ways we help individuals selling their own homes. We're ready to step in and facilitate your home sale. Our contracts are written by real estate attorneys who know and understand he Alaska real estate legal process.
4. Negotiations
Maybe you've found your buyer, have the contract drawn up, but just can't seem to agree. We can step-in and offer our expert advice on different solutions that may make the deal come together. Remember: We see these situations all the time, let our experience help you!
5. Repairs
Sometimes in the course of the home sale, repairs to the home are needed. Are you overwhelmed and don't know who to contact, which repairs are required for certain loan types, and if you're doing more than you should be? We can help with this!
6. Logistics/Communication
There are a lot of parties associated with every real estate transaction: Yourself as a seller, the organization that holds your loan (if you have one), the buyer, the buyer's lending institution (they may have none or multiple depending if they need to sell a home before purchasing yours; which is a whole other topic!), home inspectors, appraisers, and the title company. We can help facilitate these interactions, ensuring the right people are doing the right tasks, at the right time.
There are a variety of ways we can help you get your home sold and the REALTORS® here at RE/MAX of Kodiak stand ready to talk with you about your options. Give us a call to set up an appointment to sit down, have a cup of coffee and discuss things like:
Representation or the lack thereof
Commission fees
Marketing strategies and what makes RE/MAX of Kodiak stand out
Branding advantages
What to expect throughout the process
Proper valuation
Staging your home
Inspections and repairs
You will never experience pressure to list with us or to commit to us as your buyer's representative. We want you to feel totally comfortable with the process and find the right fit, working with the professional who works best with and for you.